You are here : News / News-Aug-2015
Summer 2015
We all seem to be leading busy lives and it is sometimes difficult to put together some time to stop, smell some roses and look around .. and contemplate how we all got to where we are today. For many of us, this leads our thoughts to our family connections and our roots in Lochaber Bay.
The Lochaber Bay Cemetery on Linda Road has been a landmark of our Scottish Heritage for over 200 years. In the past, there have been many events in and around the cemetery to bring people together to celebrate this heritage.
Our hope is that this news letter will be another way to link us together and keep in touch with our common heritage centered around the Lochaber Bay Cemetery.
We will strive to make this (almost) an annual letter and tell people about the cemetery, what projects we are working, passings and goings, and hopefully some historical notes and stories to bring the cemetery 'alive' to those that do not know much about the place!
Aug 2015 - The Lochaber Bay Cemetery Committee.
Upcoming Events
We are a bit late in the year to formally organize a gathering at the cemetery, but please don't let that stop you from visiting the cemetery!
Pick a sunny day, bring a lunch and read up on some headstones and family history from the website (www.lochabercemetery.org) and enjoy your afternoon!
Better yet, let some people know you are going and make a 'do' of it! (social media??)
Passings and Interments:
In the last number of years there have been a number of passing and interments. Our condolences go out to the family and friends.
James MacLachlan
Peter Landry
Margaret Landry
Zachary Lamb
Kala Cameron
We try to maintain a family tree database for many of the descendants in the cemetery which you can access here: https://tbuild.nordicwind.ca ⇗ . We try to update this database periodically with pictures and obituaries and links to cemetery plots on our headstones page.
A Story behind a Headstone
Robert Bruce MacLachlan - lost at sea - Princess Sophia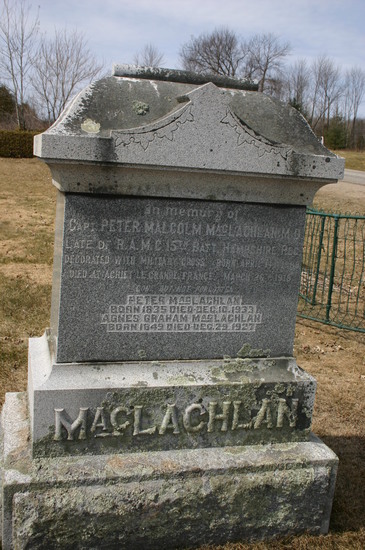 In the late 1990's, Marion MacLachlan (sister of Angus Campbell MacLachlan) wrote some notes about various headstones and here is what she said about this one:
In the Ottawa Citizen's edition Oct 25/98, an account was written about 'The Doomed Voyage of the Princess Sophia' : a Canadian Pacific coastal service vessel. She ran aground in the Vanderbilt Reef in Alaska's Lynn Canal. She was only four hours out of Skagaway. The captain refused to use the life boats and so everyone perished. The passengers consisted of 50 women and children and some of the pioneers of the Klondike Gold Rush - possibly 360 in all.
In the ship's safe and in three mail bags were several shipments of gold bullion. She sank Oct 24/1918. Two weeks later the Princess Alice brought the bodies of 157 men, women and children to Vancouver. (The worst shipping disaster in Canada was the sinking of the Empress of Ireland in 1914 with the loss of 1012.)
The body of Bruce MacLachlan was brought to Lochaber and is buried in our cemetery. A book has been written about the shipwreck and published in 1998. .. a mystery is the whereabouts of the ship's safe and mail bags. Was Bruce really rich?
by Marion MacLachlan.
NOTE: Marion wrote a book (see Stories ) about the cemetery which we still have copies of .. mostly it is the inscriptions of all the headstones carefully written up in her excellent script which we have scanned and put on all our headstones on the website. The MacLachlan headstone was written up as follows: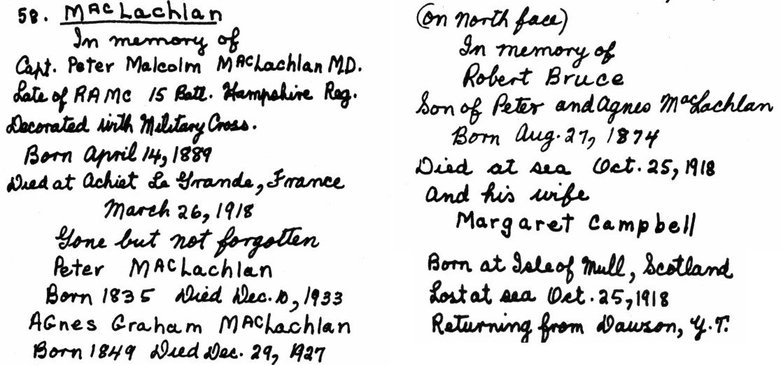 Capital Projects:
Last summer our project was replacing fence boards that had rotted .. a total of 16 boards replaced and painted. This was a multi-day project and many thanks to those that came out to help .. including Jennifer Foote, Bill Lamb, Anne Lamb, Margaret Laundry and Bill McLachlan.
No plans this summer other than regular lawn care and hedge trimming.
We have also started some investigation on preserving/stabilizing the older headstones that are at risk of further damage and loss of inscriptions. We will let you know what we discover!
Organizing a headstone installation or interment:
If you would like to arrange for the installation of a headstone on your plot, please contact the committee (see below). We will help you make arrangements with our caretaker and ensure the location and installation requirements are understood by all concerned.
Please note that all work in the cemetery must be approved by the committee and heavy equipment is not allowed on cemetery property.
For interments, please contact the committee to make the necessary arrangements.
Contacts and Mailing Lists
The biggest concern we have for the future care of the Lochaber Bay Cemetery is keeping our mailing and email lists accurate and growing with the next generation of families! If we lose touch with your family and descendants, we jeopardize the long term funding for the care and maintenance of the cemetery.
To this end, we ask all to help us update our records for family members and descendants with contact information. (address, email, phone number, facebook ...)
You can add or update family contact information by sending an email to info [at] lochabercemetery [dot] org or send a letter to Bill Lamb our treasurer (see address below) ... or simply call one of the committee members - we'd love to talk to you!
Facebook
Yes, we are now on Facebook! For many families, this is a great way to keep in touch!
Please 'like us' - www.facebook.com/lochabercemetery ⇗ or visit our website and click on:

Make a Donation
A donation to the cemetery in memory of a friend or family member is always appreciated and will help us with yearly maintenance and any capital improvement projects (like fence repair!).
All donations get a letter of acknowledgment and a receipt and this record remains in our historic archive. Note that we are not a registered charity.
Donations can be sent to Bill Lamb our Secretary/treasurer (see contact info below).
Lochaber Bay Cemetery Committee (LBCC)
The LBCC has been busy in the last 3 years working behind the scenes to better position the organization for the future. To this end, we matriculated the corporation and re-established our presence with the Quebec Registraire and Revenue Quebec. Our official corporate name is "The Lochaber Bay Cemetery Company".
We have also been busy organizing our financial position with this proper name and, although interest rates are poor, we seem to be holding our own financially.
We have had a few changes to the executive structure of the organization in the last few years - as follows:
Bill McLachlan resigned from the committee after many years of tireless work running the cemetery. Many thanks Bill for a stellar contribution!

Bill MacCallum resigned - many thanks for your contributions! You flip great burgers! (You know how to run a great AGM too!)

Marianne Lamb joined us - for a repeat performance .. many thanks!
As of 2015, our committee consists of the following people - with contact details:
President - Harold Blount - (email below)

Vice-President - Jason MacCallum - (email below)

Secretary/Treasurer - Bill Lamb - (email below)
(send email for Bill's Canada Post mail address)

Director - David McLachlan - (email below)

Directory - Marianne (Anne) Lamb - (email below)

Caretaker - Bill Newton - (phone only)

Auditor - Jon Purcell
We encourage you to use email to contact us : info [at] lochabercemetery [dot] org
Hope you found this news letter interesting! .. let us know!
LBCC
Copyright &copy 2007-2022
info at lochabercemetery dot org
legal privacy facebook ⇗