You are here : News / News-Oct-2022
News - October 2022
Cemetery Update
It's time for an update on what we have been able to accomplish in 2022. This Newsletter will cover Spring Maintenance Day, Spring Memorial Service, Headstone Maintenance Project and our 'Sands of Time' Headstone Marker Project.
Spring Maintenance - May 28th
Luck was with us and we had a beautiful sunny day. This is what we did:
replaced 9 fence boards and painted them white.
gave all fence boards a coat of fresh white paint (road side).
replaced 6 seat boards on our two benches and painted the benches green.
installed letter markers on the back of fence boards to identify rows.
Took delivery of 32 granite headstone markers and installed a half-dozen.
did a general clean up of grounds.
straightened the guest book 'mail box' and added a paper booklet of all the names of people buried at the cemetery. See LBC-Headstone-Reference-Booklet ⇗ 250K pdf
Lunch was great as a group of 'pilgrims' arrived just in time to join us on the grass. Apparently our green benches are well known and they were eager to sit on them .. alas, they had just been painted! We enjoyed talking to the group and hearing about their multi-day journey to Montreal.
Note: We are getting lots of entries to the Guest Book .. so please come by and leave your thoughts!
Memorial Service - June 4th
It was a cool and blustery day for our Memorial Service. Not a large group but it was a satisfying event just the same with some people coming as far away as Manitoulin Island!
As a prelude to the Service, we had people install a number of gravestone markers - getting dirty with hands and shovels in the ground. Lots of fun!
Reverend Hebert Daly officiated the Service and gave us a clear and meaningful address.
Murray Bond was our piper - we really enjoyed his playing.
And of course the usual suspects stood up and talked about the cemetery - past, present and future. We finished the service with a rowdy rendition of "O Canada".
A small social followed with sandwiches and cookies .. and some more headstone marker installations.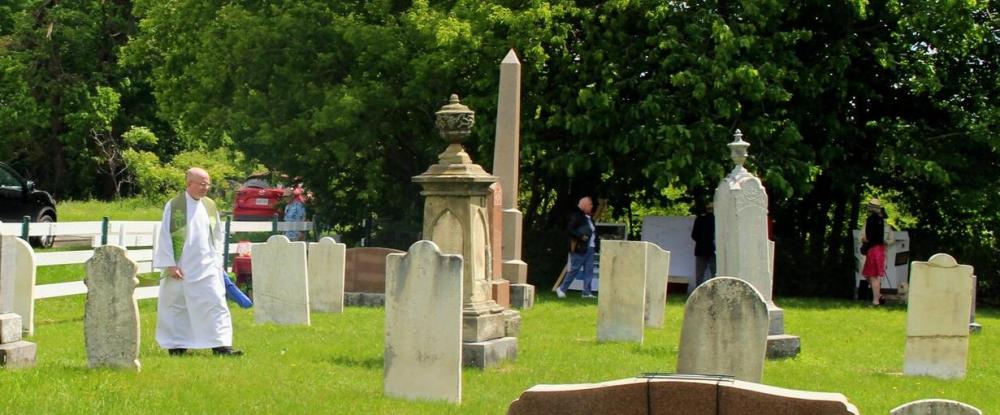 Rev. Daly touring the cemetery.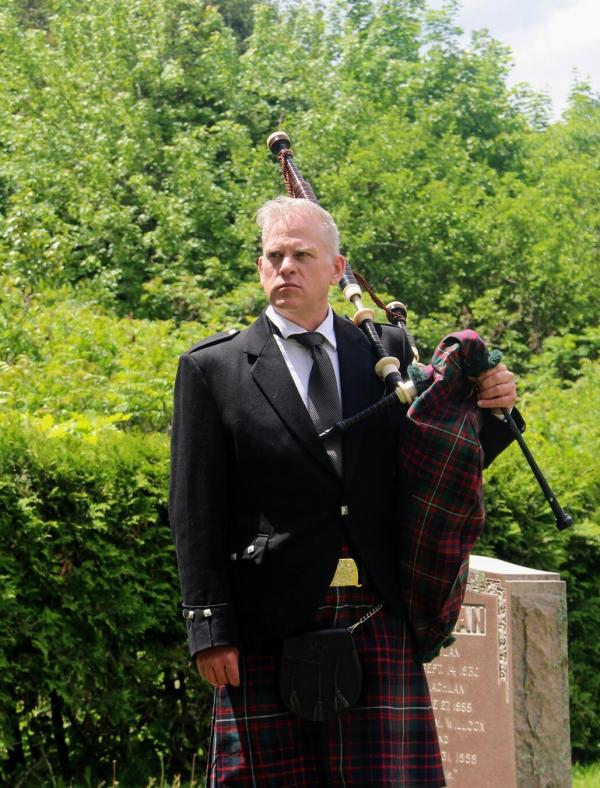 Murray on 'standby' - waiting for the next cue!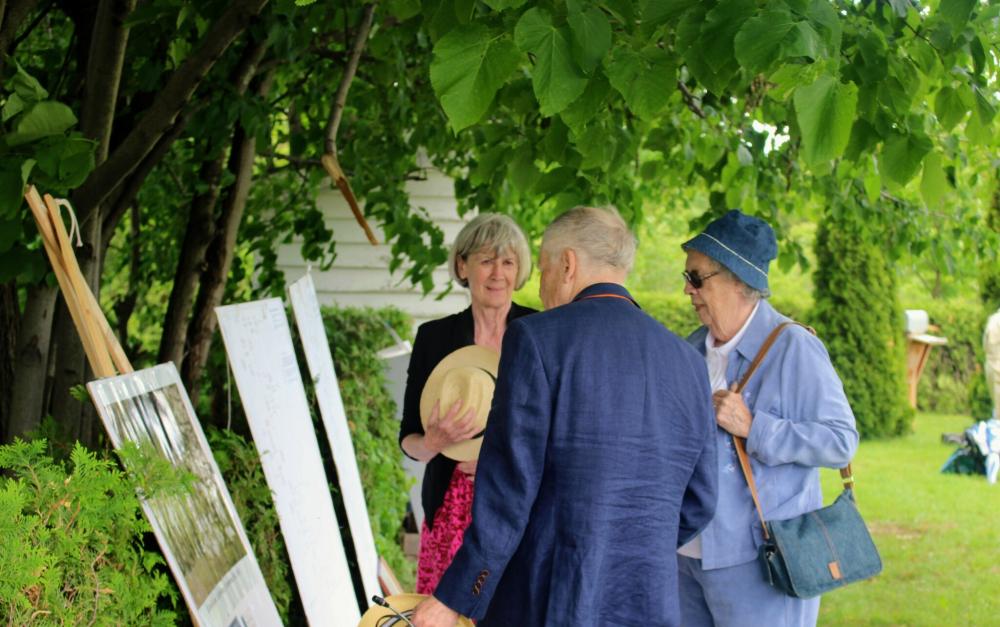 Anne, Harold and Evelyn (MacLachlan) Tilbury discussing family trees.


Social with food, some displays and lots of discussion.
Headstone Maintenance Project
We are pleased to report that we completed our Headstone Maintenance Project this September and we are quite satisfied with what we where able to accomplish. Granted, we had to adjust our expectations a bit to keep the costs reasonable, but we now feel we've repaired and stabilized a number of headstones that were of immediate concern.
Here is an updated list of headstones and work status:
(Click on Ref # to open page on more info about the headstone.)
Ref#
Photo
Description / History:
Work:
Status:
D1
Duncan McEachern - Marion McDonald

1801-1866, 1805-1866: Settled in Lochaber Bay approx. 1835 with MacLachlans and McCallums

Clean.

COMPLETED.

D13
Mary McCallum

1832-1868: Daughter of John McCallum and Margaret McDonald.

Was repaired – now in 2 pieces. To be repaired with glue and pins.

Repaired and cleaned.

K5
John C MacCallum

1875-1940: grandson of John and Margaret (McDonald) McCallum and also Robert and Mary (McDonald) McLachlan.

Tilting east: new foundation.

Straightened with new foundation.

I9
John Angus – Christena Kennedy

1843-1921: Father of Jean MacLachlan (Angus). Jean married Rory MacLachlan (the bull fighter).

Big stone and tilting south: Pour a new foundation provided they can move headstone with pry-bars and by "walking" it off location.

We brought in a medium sized backhoe and were able to straighten it with shims and crushed stone. Moving it off the existing foundation was not an option as it would have been very expensive to have two visits with the backhoe. We feel the existing footing is now stable and has not shifted in 40 years so shimming should be adequate.

M22
Hugh McNeil – Christina McMillan

1845-1928, 1853-1928

Tilting south: shim and crushed stone to straighten.

COMPLETED.

D10
Robert McLachlan – Mary McDonald

1800-1894, 1798-1879: Settled in Lochaber Bay approx. 1835 with McEacherns and McCallums

Tilting north-east: shim and crushed stone to straighten. (Too fragile to lift and do a new foundation).

Vincent was able to straighten. It's not perfect but much better than it was and sufficient considering fragile nature of marble stone.

F4
John McCallum – Elizabeth King

1801-1882, 1813-1900: Elizabeth is John's 2nd wife. John and Margaret (McDonald - 1st wife) settled in Lochaber Bay approx. 1835 with McEacherns and McLachlans.
There is a story (probably) behind where Margaret is buried and why John has 2 headstones in cemetery (F6).

Tilting east: shim and crushed stone to straighten.
COMPLETED.

(Sorry, no image).

B17
Finlay McMillan

1816-1868

Tilting and loose on base: shim and crushed stone to straighten. Caulk to seal stone on base.

COMPLETED - including caulking and a cleaning.

C1
Hugh McEachern

Added to 'clean' list.

Cleaned.

E1
Annie McEachern

Added to 'clean' list.

Cleaned.

K13
Elizabeth McKinlay

Elizabeth was 1st wife of Alexander McEachern

Added to 'clean' and straighten list.

Cleaned and straightened.

G1
Addie Richardson

17.5 yrs - wife of Albert McCallum

Added to straighten list.

Straightened and lightly cleaned.
The Sands of Time
If you remember from the last news letter, we proposed a solution to keep the inscriptions readable despite acid rain and other pollutants eating away at these inscriptions on sandstone and marble.
We are pleased to announce that we received great support for this idea and this spring we installed the first 32 from rows A to G including headstone G10.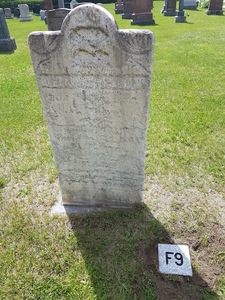 An example headstone that has become illegible with it's marker reference number.
Although we are pleased with the result, we will delay the purchase of the remaining 32 markers as we are short of funds. Due to a change of supplier and a decision to have lettering painted black, our costs doubled. We will need approximately $2000 to finish this project but we have other priorities such as keeping the grass cut and hedge trimmed.
Donations
Donations to the Lochaber Bay Cemetery are always welcome. Our investment fund is small (from donations dating back decades!) which provides an income stream that almost pays the grass cutting - but not the hedge trimming nor other maintenance. Fortunately donations in the last 5 years have helped us keep up with the grass, hedge and other maintenance activities (like fence repair!) without eroding this fund.
Donations by cheque can be made to:


    Lochaber Bay Cemetery Company
    c/o William Lamb, Treasurer
    246 Wall Rd
    Navan, Ontario
    K4B 1H9

Donations by e-transfer can be made to:
donate@lochabercemetery.org
Enter your email address or mailing address in the message window so we can send you a receipt!
The Lochaber Bay Cemetery Committee:
Harold Blount - President
David McLachlan - Vice-President
Bill Lamb - Secretary/Treasurer
Marianne Lamb - Director
Jason MacCallum - Director

Auditor
Special thanks to Devon Purcell for agreeing to be our auditor!
Contact
Copyright &copy 2007-2022
info at lochabercemetery dot org
legal privacy facebook ⇗